PicWords answers ID - 82
Complete PicWords answers and solution for all levels. PicWords is very interesting. A great game with tons of levels and attractive design for iPhone, iPad and Android devices.
Count the letters of each answer and select them in the form below. Have fun!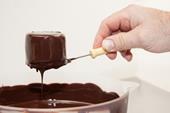 Answer: chocolate, hand, bowl
Back
---
About the game
If you like brain games, you will love PicWords™ - it's a fun word game in which your goal is to find words that fit to the shown picture.
Every picture has three words associated to it. You get all letters of a word in random order and have to rearrange them to the correct solution.